China Overtakes US and Europe as The Largest Fashion Market in The World
Do you know what is the biggest fashion market in the world now?
It is not USA or Europe anymore!
China expects to become the largest fashion market in the world this year. According to a joint report by McKinsey & Company and BOF (Business of Fashion), China expects to become world's largest fashion market.
China has been world's largest exporter of fashion goods and still holding the mascot. According to the World Trade Organization's trade review 2018, China was the biggest apparel exporter with a 34.2% global market share. Though apparel manufacturing is being affected by new policy and increasing labor cost yet China is not going to fall from the first position soon.
Bloomberg reported back in 2017 that China will become the largest importer in 5 years. And the Global Managing Partner of McKinsey & Company, Kevin Sneader told Quartz that the rapid growth of Chinese consumer spending power will reach roughly German's current economy by 2025. (Source: Quartz)
Make a Guess, what is the percentage of overall consumer goods consumption in China?
China consumes a staggering 18 percent of total global consumption. And fashion is one of the biggest and rising. (Source: McKinsey)
What does the present report say about Chinese Fashion market?
In many ways, China is the largest fashion market in the world now. According to a report by Statista, Revenue from fashion products stands at US$281bn in 2019 while USA stands at US$103bn. The average revenue growth from fashion is 15.8% for China. By the next year it will be even increased.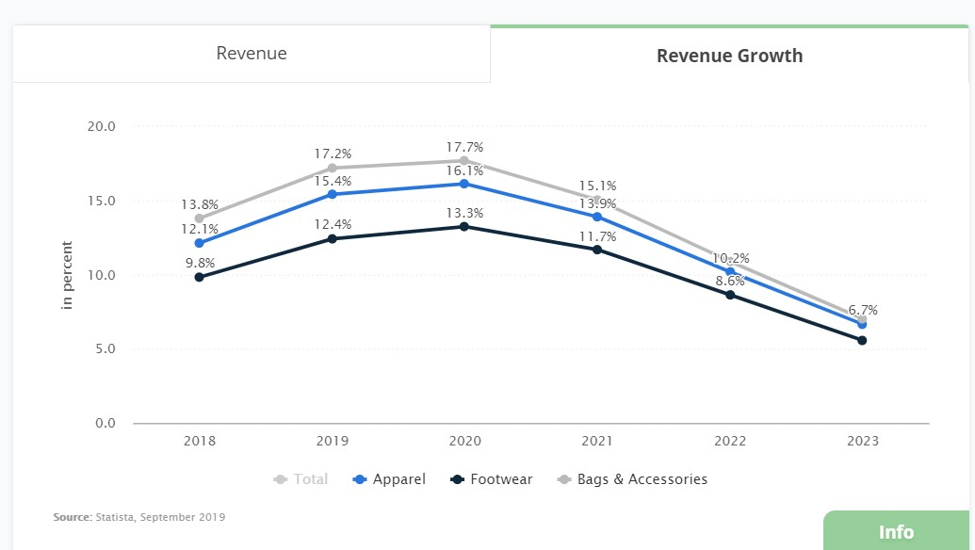 For USA the revenue growth is consistently declining. In 2019, revenue growth was 21.3% which is expected to drop to 20.0%.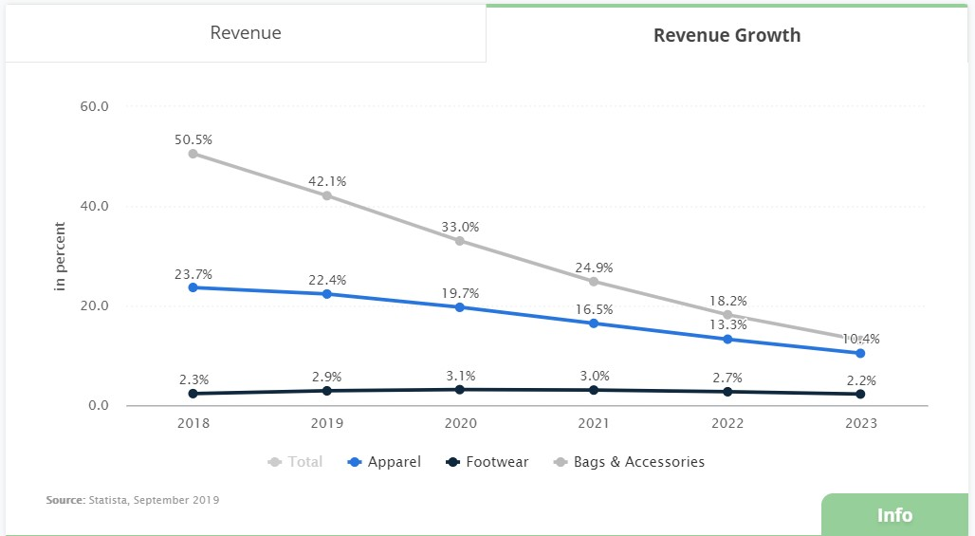 The report also shows that most of the revenue is generated in Chinese market for both China and USA.
So, where does this revenue statistics pointing at?
US fashion products made most of the revenue from Chines market. Besides a lot of big brands are shifting their focus on Chinese market instead of USA.
According to McKinsey and BOF's report in The State of Fashion 2020, China is the most progressive luxury fashion market and maintaining around 70 percent expansion in this segment. As expected, LVMH and Gucci are some of the largest luxury brands to get success in the Chinese market. Canadian fashion giant, Lululemon reported has 68 percent revenue from Chinese market while other fashion giants H&M, Nike and Uniqlo have strong demand as well.
As the report shows, many luxury brands are now depending on the vast Chinese market but Chinese government is encouraging its citizens to buy home grown brands. Because of the market size, growing demand and price preferences, western brands are not capable of satisfying Chinese consumers entirely. Therefore, home grown brands are growing rapidly. Chinese luxury brands like Heilan Home, La Chapelle and Peacbird are competitively growing and covering the growing demand.
According a report by Euromonitor, Chinese apparel market crossed USA in 2018. And now China is the biggest market for entire fashion industry.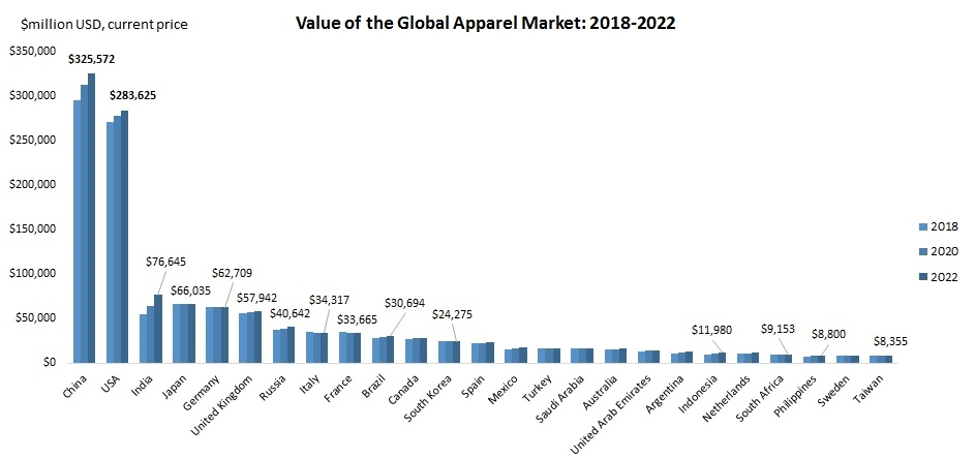 Source: Euromonitor
Because Chinese home brands are growing and setting up stores in China and abroad. World leading fashion manufactures are looking forward Chinese brands as well. There is a potential hope for Bangladesh In near future that China can become the largest apparel export market for Bangladesh.
What is the Driving Force behind China's Fashion Market Boom?
1.4bn population is the major reason behind the growth to the Chinese fashion market.
China has been the factory of the world which helped her to become the superpower of economy. Due to the economic growth, consumer spending power has been dramatically increased. Moreover, demand for Luxury fashion products are also increasing.
Despite the conservative purchase behavior, the Chinese fashion market is growing tremendously. A significant number of consumer groups are rising among one and half a billion of Chinese population. Keeping that in mind, international luxury fashion brands are focusing on Chinese market.
To put an end, we can be sure that US or Europe is not the largest fashion market in the world anymore. Increasing consumer spending power and economic development has already made China as world's largest fashion market and international brands are focusing on Chinese market instead of US and Europe.