Devastating Impact of COVID-19 on Global Garment Supply Chain
Corona Virus-19 has brought a devastating impact on the global fashion supply chain. Billions of dollars orders have been already canceled by the world's largest brands and god knows how many more to be canceled or delayed.
According to a recent report by the Center for Global Workers Right, Primark alone has canceled and delayed its most orders from Bangladesh, a total of $273 million. The report shows another major buyer of Bangladeshi manufacturers, Tesco has canceled and delayed orders of an estimated $550 million which is the biggest amount in the report till now.
C&A and Zara, being other two of the largest companies have reportedly canceled US$166 and US$109 worth of products from Bangladesh. The list also includes Mothercare (with US$62m), Bestseller (US$59m), Kiabi (US$57m), VF Corp (US$56m), Tesco (US$50m), M&S (US$39m), Kohls (US$39m), Walmart (US$38m), LPP (US$37m), Target (US$24m), and J C Penney (US$23m). This is a huge amount and in total US$1.5 billion. Center for Global Workers Right has collected the precise figure from Bangladesh Garment Manufacturers and Exporters Association (BGMEA).
The report summarized, "COVID-19 pandemic has had a devastating impact on global garment supply chains and the situation will get far worse before it gets better." The BGMEA has also reported that more than a total of $3.05 billion orders are canceled or put on hold. In response, more than 58% of factories had to shut down their facilities even before Bangladesh were affected by this vicious pandemic. Currently, Bangladesh is also affected by the Corona Virus and under a total lockdown and all the factories have suspended their activities.
More than 91.3% of buyers have canceled orders and refused to pay for the production cost to the suppliers. Similarly, more than 72.1% of buyers have even refused to pay for the already used raw materials.
While most of the fashion brands have been showing their back, H&M and PVH have been making a difference because they have agreed to pay for the canceled orders already in production. A spokesperson has explained from H&M, "We will of course pay for these goods and we will do it under agreed payment terms."
A spokesperson from Primark has said, "Every store in every country in which we operate is now closed. We are losing sales of £650 million a month as a result. We have therefore been left with no option."
The report also stated that more than one million garment workers have lost their jobs in Bangladesh which is the most devastating impact caused by the COVID-19. The actual number of affected people is 2.19 million as reported by BGNEA. As a result of order cancellation and refusal of payment from the buyers, more than 80.9% of fired workers are sent home without any severance payment.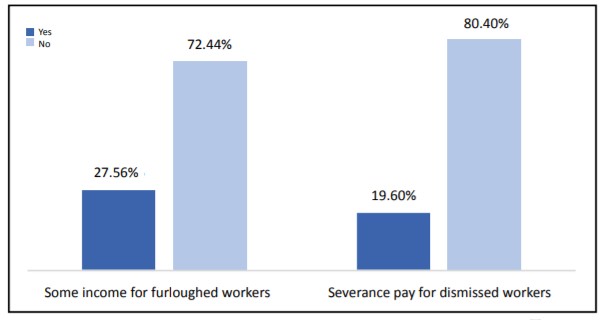 On the other hand, many buyers have reported that due to store shutdown, the stocked product remains in stock. The Primark personals expressed that "We have large quantities of existing stock in our stores, our depots and in transit, that is paid for." If these buyers wouldn't take action in this ongoing global crisis, they would be taking supplies that they cannot even sell at this moment.
This is not the case only for Bangladesh, this is the case for the entire garment supply chain. China is locked down for the last three months and after China, the USA, and Europe, the two biggest importers of Bangladeshi RMG products have become the epicenter of the Corona Virus.
As reported, more than one million garment workers have lost their jobs in Bangladesh. It raises a question on the figure of how many more millions of workers have lost their jobs in the whole world. As experts are expecting, the number will rise very soon in Bangladesh and obviously, a similar situation is taking over the other major players of the industry including Vietnam, Cambodia, India, Myanmar, etc. In a report from Just-Style shows that, "Vietnamese textile and apparel sector could see a VND11trn (US$467m) hit from the fallout of Corona Virus." If we look into other reports and dig down to other countries order cancelation, that is going to be huge.
As Corona Virus spreads, governments all over the world forced to shut down stores along with factories as a part of social-distancing. And it is completely unknown when this dire situation takes rest.