Pakistan's Textile and Apparel Export reach $11.419 Billion
According to Pakistan Bureau of Statistics (PBS), textile and apparel export recorded an increase of 2.9% in the July 2018- April 2019 fiscal year.
In 2017-2018 fiscal year, Pakistan reportedly exported US$11.176 billion worth of apparel and textile products. In the present year, the export has reached US$11.419 billion which projects an US$243 million. (Source: Pakistan Bureau of Statistics)
currently, Pakistan is the 9th largest textile and 5th largest cotton exporter in the world. Both the industries are pushing hard to improve the nation's export earnings.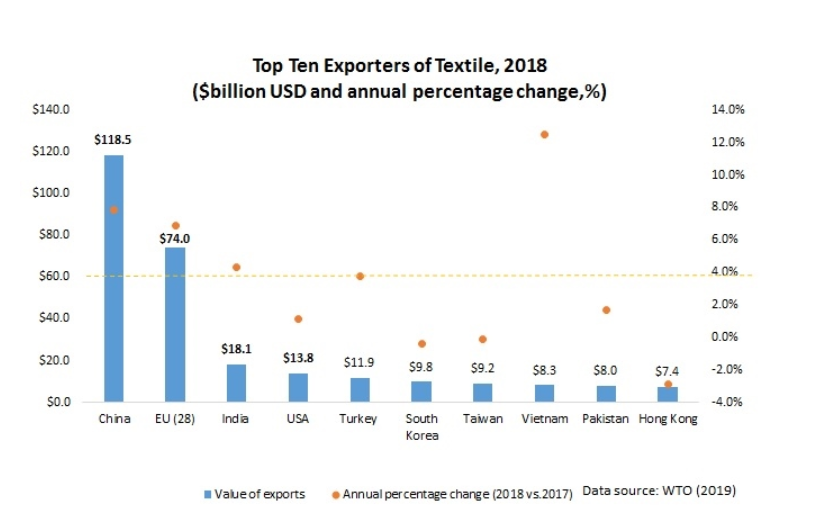 Detail Product Wise Export Analysis
According to Times Of Islamabad, July-august 2019, the export of textile products valued for $2.303 billion which was $2.215billion in the last same period.
Knitwear export value also grew US$62 million compared to the same period last year. To be precise, July-August 2019, Pakistan earned $541.484 million from knitwear export. Throughout the entire fiscal year, knitted products export accounted for US$2.11 billion. (Source: Pakistan Burau of Statistics)
According to the same report, crocheted fabric export increased 25.56 percent and man-made fabric export grew 29.58 percent.
Pakistan is currently the 5th largest cotton producer in the world.
A significant amount of export earning comes from raw and combed cotton. Since, Pakistan remains on the top 5 list, cotton signifies over all other raw materials. (Source: UN Food & Agriculture Organization).
In the current fiscal year, cotton export stood for 55% of all the textile export earnings for Pakistan. U.S. Department of Agriculture reported that in previous fiscal year, cotton export from Pakistan declined 40% and this fiscal year they have seen 66.67% increase. In 2019. Pakistan exported 100, 1000 480 lb. Balls of cotton to its exporters which earned them significant amount of export earnings.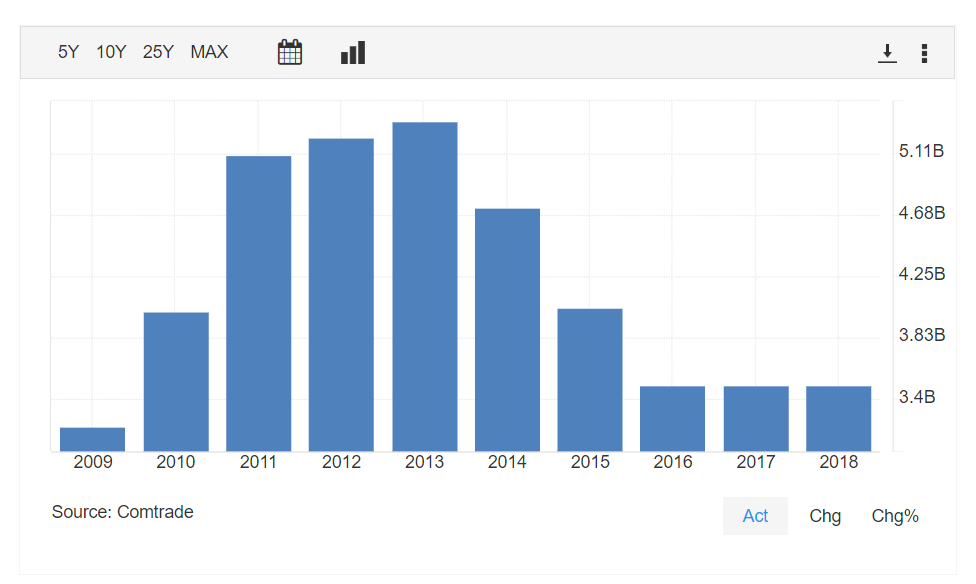 Largest Importers of Pakistani Textile Products
European Union is the largest importer of Pakistani textile and apparel goods. EU alone imports 50% of Pakistan's total export goods. Pakistan exports its second largest portion to USA which accounts for 44.5% of the gross export products.
The remaining products are exported to Canada (1.7%) and Turkey (3.6%). (Source)
Impact of Textile and Apparel Industry in Pakistan
Is textile and apparel sector significant in Pakistan?
There is no doubt that textile and apparel sectors are significantly contributing to the economic development of Pakistan. Despite the political turmoil and trading restrictions for long, Pakistan has been playing a crucial role for half a century.
According to an article in Pakistan Textile Journal by Dr. Mirza Ikhtiar Baig, 68% of total export earning comes from textile sector which is 46% of the total manufactured products in Pakistan. Besides, 38% of total workforce relies on textile sector including textile raw material production and RMG. Which indicates, half the economy directly depends on textile and apparel industry in Pakistan. (Source: Pakistan Textile Journal)